The Carving Block Mt Hood Summer Session with Ryan Knapton – July 22 – 29
Ride with Ryan Knapton and Giri Watts
This single session exclusive camp features instruction by the one and only Ryan Knapton and snowboard legend Giri Watts. Eight snowboarders will enjoy five days on snow at the world famous Timberline Resort and a day checking out the beautiful Mt. Hood area. Clients will have access to our full demo fleet, learn about waxing and tuning, and improve on their riding. Sign up now to reserve your spot before it sells out. For clients 18 and older.
Reserve your spot now!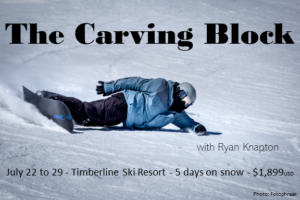 Session Includes
Accommodation and meals
Lift Tickets
Instruction from Ryan Knapton and Giri Watts
Full access to Donek demos
Daily resort transportation
Video analysis and tips
$100 Donek Voucher
Donek swag
Waxing and tuning clinic
Schedule
July 22 – Arrival
July 23-25 – On snow block 1
July 26 – Explore/Rest (Small hikes, wine tour in Hood River, zip lines)
July 27-28 – On snow block 2
July 29 – Departure
*Please ask about airport transfers if needed
Learning List (terrain permitting)
Carving
Euro Carving
Extreme Carving
Revert Carves
Switch Carving
Buttering
Nose-rolls
Tail-rolls
Nollie Spins
Handplants
180's, 360's
Rail Tricks
Roller Tricks
Grabs
*Can teach tricks not listed here too!