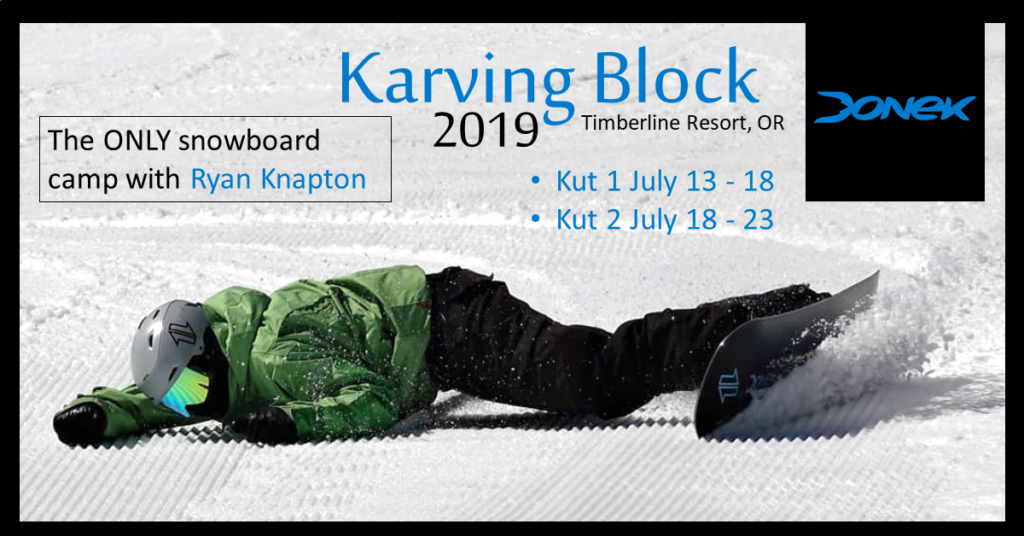 Join in the only snowboard camp at Mt. Hood to teach ground carving tricks with Ryan Knapton. The Karving Block is back with Ryan Knapton, Giri Watts, and freshly added Olympian Katie Tsuyuki.
Ride for four days with the Donek Deam team coaching you and sharing their tricks of the trade. We have given you two Kuts to choose from to try to accommodate your schedule. Try board from our demo fleet including hardboots upon request. Have more questions? See below or email Donekmarketing@gmail.com.
Book Your Kut Today
Location
Timeberline Resort, Oregon (aka Mt. Hood)
Kut 1 & Kut 2 Schedule
Sat 13th: Kut 1 Arrival / Camp Introduction
Sun 14th: On Snow
Mon 15th: On Snow
Tues 16th: On Snow
Wed 17th: On Snow
Thurs 18th: Kut 1 Departures / Kut 2 Arrivals and Camp Introduction
Fri 19th: On Snow
Sat 20th: On Snow
Sun 21st: On Snow
Mon 22nd: On Snow
Tues 23rd: Kut 2 Departure
Q&A
What is included in the Kuts? Everything except for flights and possibly airport transfers, depending on the timing of the flight, is included in the Kuts. The Kuts include meals, accommodation, lift tickets, coaching fees, waxing clinic, $150 Donek voucher, t-shirt, access to the demo fleet, video analysis, snowboard fitness clinic, and good times.
What level of rider do I need to be? This camp is for intermediate to advanced riders. Riders should be able to competently link turns together and ride down almost any slope. This camp is also for adults only.
How big are the riding groups? We are limiting the groups to three to four riders per coach to be sure everyone has a personalized experience. Everyone will have a chance to be coached by Ryan Knapton.
Do I need to bring a snowboard? You are welcome to ride and bring your own board and ride our demos. We will have our full Knapton Fleet on site and more of our other models.
What do the days look like when we are on snow? Considering we want firm snow to carve on, days will be early mornings with a hot breakfast. There will be a morning session, packed lunch, and afternoon session. We will stay with riders on snow for as long as they would like but will try to limit riding to 4-5hrs to control fatigue over the camp and prevent injuries. Afternoons will be video analysis, waxing or fitness clinics and some other activities like skateboarding or biking. The schedule is very weather dependent.
What else should I bring? It would be a good idea to bring a skateboard if you have one or a mountain bike if you are driving. There are good trails to check out and Giri's an amazingly long and skateboard rider who can share some great tricks with you. We will have anything snowboard related, like wax or tools.
I have a food allergy, will this be considered? Yes, allergies will be carefully planned and accommodated for.
I have my own accommodation, can I just ride with the group? Of course, you are welcome to stay where you like. Please let us know and we can give you the adjusted cost. Contact us.
Where is the accommodation located? The house we have is in Government Camp, Oregon. It is within walking distance to village shops and restaurants. The closest town is Welches, about 20mins away.
How can I book the camp? You can book through here.