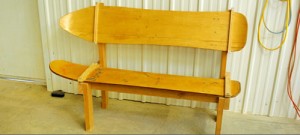 I started Donek Snowboards while still in high school. I even wrote a business plan as a social studies project that described manufacturing and selling snowboards directly to the end user. I built the first boards in my parent's basement. The bench you see above sit's in the shop today and is made from the 1st and 4th boards I built. #2 and #3 both broke.
Things progressed from there as I became more skilled I played with increasingly complex constructions and shapes. While studying mechanical engineering at the University of Colorado at Boulder, I was always heading home to work in mom and dad's basement and experiment with new ideas and constructions based on my studies. I played with building skateboards for a couple years and even sold them through some local shops.
Upon Graduating college in 1993 with a BS in Mechanical Engineering and multiple graduate level courses in composites, design, and mathematical modeling, I went to work for the National Renewable Energy Laboratory. I continued building boards and started looking for a job with another manufacturer. Frustration with the old boys club mentality in the rest of the industry led me to finally incorporating Donek Snowboards and pursuing my first production projects in 1995.
Working in an oversized one car garage, I began building boards and offering them online. Sales were slow, so I produced a big run of boards for a Rockford Fosgate promotion. I also took on production of some monoskis.
In 1997, Jenifer and I got married and we bought our first house in Aurora, CO. One of the primary concerns was shop space. We got a place with a 2 car garage and a 500 square foot unfinished basement. I thought I'd died and gone to heaven with all that space to build boards.
By 2000 I felt I was ready to go it on my own and I stopped producing monoskis as a means of filling in the financial gaps. Things went well and Jenifer and I had begun getting restless in what appeared to be a rapidly shrinking shop space. We decided it was time to move the business into a bigger space, but commercial space was simply too expensive.
Having grown up on a farm in eastern Colorado, Jenifer wanted to return to a small town life. I had never really fallen in love with the city, so in 2001 we found some land east of Denver that was pretty much in the middle of nowhere. The property had a house and a very poorly built barn. Over the course of the first summer I pretty much tore down the barn and put it back up properly, adding a concrete floor and electricity. We put all our finishing and core production in the barn and left the pressing and cnc equipment in the basement of the house. Between the two spaces, we had graduated to slightly more than 3000 square feet of space.
In late September of 2002 there was a fire in the barn, which completely destroyed the building and all the equipment. Knocked down, but not out, I converted a structure that had been used as a car port into a temporary shop and future garage, to fill our core production and finishing needs for the 2002/2003 season. With the help of some really good neighbors and friends from the bagpipe band I played in, we set up this new space and had things back on track in less than 6 weeks. We saw our first Olympic athlete make the team in 2002, but sadly never saw him race on TV.
In the summer of 2003, we began construction on a new 5000 square foot building. We moved all the equipment into this building in the fall. It has been the home for our production ever since.
We were sponsoring 4 athletes on the US national team by the 2006 Olympics. We invested a lot of money in developing some new ideas in board construction the season before. One of the results of this research is what we call our Olympic construction. This large investment and a rather lack luster result caused us to re-examining our sponsorship programs for athletes and led us to an arrangement with coach Sean McCarran at Copper mountain. Sadly Sean (a Brittish citizen) has not been able to return to the US for the last couple season and is now working in Canada. We continue to work with him developing FS and FR boards through the program he runs there.
As of the end of the 2008/2009 season we have invested a great deal of time and effort in perfecting our metal board shapes and construction. We feel that these new shapes will bring the US athletes back to US manufactured race board.
We have recently undertaken a project with a group of senior engineering students at the University of Colorado at Boulder. This projects aims are to find ways to make our operation more environmentally friendly. We'll continue to provide updates on this matter and others through our facebook and twitter updates.