Custom Graphics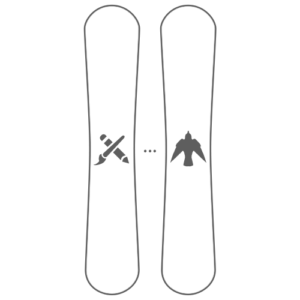 Create or Choose
A Donek comes with your choice of graphics on almost every model, so you are not forced to make a compromise when it comes to your riding needs and personal style. If you can't find a graphic you like on our web site, you can always design your own or request contact information for an artist we work with to help you in that endeavor. If you're looking for a graphic we use to produce, but can't find it on our site, let us know, we can probably still print it.
Give your board a personal touch
Design your own artwork for your snowboard. The graphics on every board we manufacture is digitally printed. As a result you can submit your own artwork for the top sheet or base of the board.
Pricing and Options
Custom printed top sheet: $85 (your artwork)   $145 (our artist)
Custom Printed Base:       $85 (your artwork)   $145 (our artist)
Custom Die Cut graphics: $125 (your artwork) $185 (our artist)
Your Artwork means:
You provide the artwork in the template found on the Donek website and our designer is able to "drag and drop" the image to print.
Our Artist Means:
You provide the artwork "as is" and our designer will arrange the art for the board template and make additional changes to the design including any desired text. It includes 2 hours of design. Additional fees may apply for complex or time consuming work.
Do you need help with the design work? Our in-house graphic artists can help.  Meet the Artists
Custom Graphics Guide
View our guide for custom graphics for pricing, tips, artwork requirements and downloadable templates.
Graphics Guide