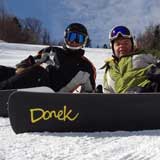 A Family Business
Sean Martin – President/CEO
Sean started making Donek Snowboards in 1987 and incorporated the company in 1995. He is responsible for just about everything to do with the business. A great deal of his time is spent guaranteeing all the production equipment is operating properly. His dedication to the customer is evident in the fact that he answers all of the e-mails and about 90% of the phone calls. Sean engineers all of the boards and manufacturing processes. He trains all the employees, oversees every aspect of manufacturing, and assembles every board that goes out the door. Other Interests In 2004 Donek invested in some professional photo equipment for the purpose of photographing riders and equipment. Sean has become an avid photographer spending a great deal of his spare time on this endeavor. He shoots sports for his local newspaper as a fun side-job. Photography has become more than a tool used by the business, it has become a second occupation– you can check out the results here.
Board Details
Freeride: Incline 160
Bindings: Catek Freeride
Stance: 18.5in 35deg/30deg
Boots: Deeluxe
Carve: Custom 171 FC
Bindings: Bomber Step In
Stance: 17.5in 60deg/40deg
Boots: Deeluxe
Jenifer Martin – The Boss
Jenifer is the company accountant. While juggling the duties of being a mommy and taking care of the house she inspects every board and takes care of all our shipping needs. If you talk with her on the phone you are likely to get some sort of input from Claire or James. Other Interests Jenifer enjoys music in all its forms, whether she is playing the piano, drumming, singing or listening to the wide variety of music she loves. Jenifer loves her 2 cats True, and Doxy very much.
Board Details
Freeride: Incline 150
Bindings: Catek Freeride
Stance: 17.5in 35deg/15deg
Boots: Deeluxe Spark Lara
Carve: 02 sanglee 154sl
Binding: Bomber Step In
Stance: 17.5in 50 deg/50deg
Boots: Raichle
Claire & James Martin – Chief distraction & Morale Officers
Claire is responsible for yelling and melting down whenever Jenifer is on the phone. She is on band-aid patrol, ensuring that all cuts (imaginary or real) are covered. One of Claire's favorite people is our FedEx driver affectionately called "boo." She has little difficulty keeping boo here while we box up that last board.