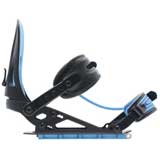 Buying snowboard bindings should not be an afterthought. It is important to take care to select the right binding for your board, the boots, and the way you ride. So when you buy snowboard bindings consider how they fit into the overall package.
Achieving the best performance and maximizing the fun factor on the slope requires a cohesive equipment package. If not, then you end up fighting your equipment and each piece fights the other spelling problems getting down the hill. For example, binding flex should be appropriate to your ability and the type of terrain you ride. It should also match the flex in your boots. All working as a cohesive unit.
There are several basic riding styles that help determine your snowboard binding choice.
All-mountain boards are best for any terrain, whether groomed runs, park and pipe or powder. Binding flex levels will vary based on your skill level. Most common is a soft to medium flex. But racers like a stiff flex.
Freestyle riders who are known for jumps, spins and tricks in the park and half-pipe typically look for bindings with a softer flex for greater turning ease and maneuverability.
Splitboard and freeride enthusiasts look for stiffer bindings for greater control in the backcountry and sidecountry terrain.
Powder hounds looking for greater control will pick stiff bindings on wider, longer boards to help float in deep powder.
No matter how you ride, it is important to make sure your bindings not only fit your board, but also fit you. They need to accommodate your boot giving you a snug fit without having to cram it in the binding. And, watch out for binding straps that dangle excessively when tightened.
The experts at Donek.com can help make sure you have the right bindings on the right board to ensure an awesome day on the slopes. Check us out today!