Choose or Create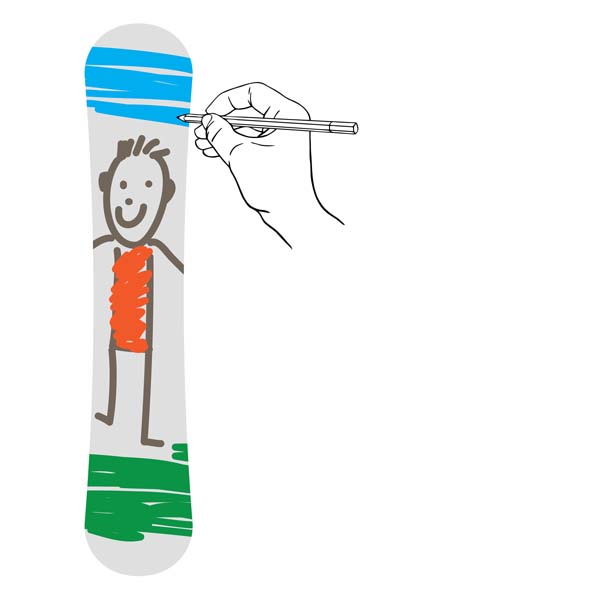 A Donek comes with your choice of graphics on almost every model, so you are not forced to make a compromise when it comes to your riding needs and personal style.  If you can't find a graphic you like on our web site, you can always design your own or request contact information for an artist we work with to help you in that endeavor  If you're looking for a graphic we use to produce, but can't find it on our site, let us know, we can probably still print it.
Give your board a personal touch
Design your own artwork for your snowboard. The graphics on every board we manufacture is digitally printed. As a result you can submit your own artwork for the top sheet or base of the board.
Do you need help with the design work? Our in-house graphic artist can help.
The minimum fee is $60 and includes up to 2 hours work.
Additional fees may apply for complex or time consuming work.
Meet the Artist: Raffaella Vaz
Pricing and Options
Custom printed topsheet: $65 (your artwork) $125 (our artist)
Available in gloss or carbonium texture
Photographic or illustrative artwork is fine
Unfortunately we cannot do Metalic or dayglow colors
Custom Printed Base :$65 (your artwork) $125 (our artist)
Custom Die Cut graphics: $125 (your artwork) $185 (our artist)
Base Graphics Tips
Think of die cutting like a coloring book – only distinct regions of color are possible we stock black, white, red, yellow, and blue base material, you must work only in these colors you are limited to 15 inlayed pieces/parts
Printed base graphics tend to be a bit blurry so avoid fine lines
Printed Graphics Requirements
Custom artwork should be submitted as an illustrator CS3 (or earlier), or jpg or tif file that is 150dpi in RGB color.
Photoshop (.psd) files will not be accepted
All text (in illustrator files) must be converted to curves or outlines
Artwork must be rectangular in shape – do not trim the artwork to the shape of a snowboard
Artwork must be 3in (8cm) longer than the board and 1in (2.5cm) wider than the board at it's widest point
The artwork should not contain any board outline or drawings indicating the position of the boards inserts
If the board outline is included in an illustrator file it must be a separate layer called "board outline"
Artwork must be submitted in a vertical orientation with the tip at the top and the tail at the bottom