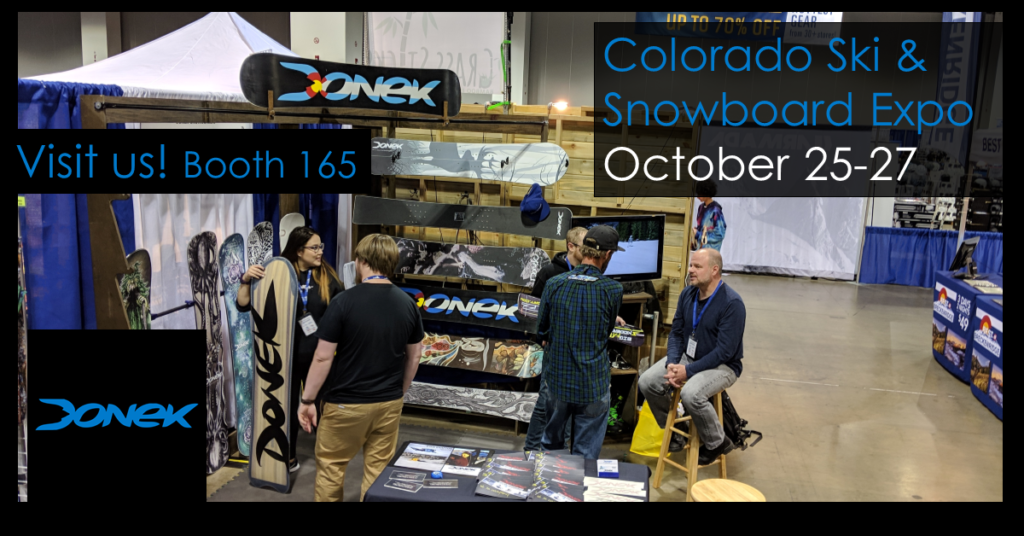 We are excited to announce that we are going to be at the Colorado ski & snowboard show.
Visit the Donek Snowboards booth #165 at the Colorado Convention Centre in Denver October 25 – 27.
This is your chance to meet owner Sean Martin, be able to bend and touch our boards and see all our shapes. Talk to a Donek Team member to receive $100 off your custom snowboard build for the upcoming season.
Looking forward to showing you all our snowboards at the expo!
More info below
LOCATION, DIRECTIONS & PARKING
Colorado Convention Center
700 Fourteenth St.
Denver, CO 80202
303-228-8000
For directions and parking, click here. For additional transportation options and a map click over to the Colorado Convention Center.
EXPO HOURS
Friday, October 25: 12pm to 10pm
Saturday, October 26: 10am to 8pm
Sunday, October 27: 10am to 6pm
OFFICIAL EXPO GUIDE
The Denver Post publishes a special Ski & Snowboard Expo section the Sunday before the expo.
TICKETS
Tickets are $15 and can purchase online here. Tickets can also be purchased at the door.
$15 ticket includes $10 GetSkiTickets.com Gift Card, plus a chance to win 1 of 3 $1,000 Sun & Ski Sports Gift Certificates and 1 of 2 Ikon Pass passes (restrictions apply).
To receive these you must complete the survey just inside the entrance to the expo and provide your email address.Kids 12 and under are FREEClick HERE for a $3 coupon off admission.