Donek has been very pleased with the the B1's debut. Not only has it snagged a podium spot at Jr. Worlds in New Zealand this summer but it has just been raced in the grand final for the Cirvina, Italy, World Cup.
Senna Leith, Donek's top boardercross rider, broke away from his 22nd place qualification spot to a 6th place finish, and top American, among experienced riders. What an exciting day for Senna and his whole support team including Ross Hindman, the B1's main influence.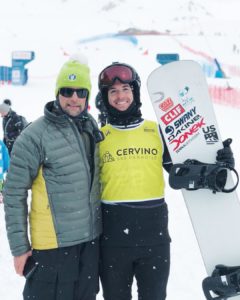 We are also cheering on development rider Liva Molodyh in the ladies races.
They are getting ready to race again at these back to back World Cup events in Italy. Good luck to all the riders racing with a little extra going to Senna and Livia 🙂
See the final results  and see the start list for the next race.
Enjoy a run with Senna Letih   https://youtu.be/gC-xXffhOac